Selling this truck for my buddy Sean from Kentucky. Him and his family are private fabricator that has build dozens of bad ass rides. He commissioned me to sell his latest build "52 Hurricane".
Price: $25,000.00 OBO
Description:
Chassis : s10 frame, new upper and lower control arms , ball joints, front end bearings, seals, rotors, calipers, pads, shoes, brake lines, hoses , drums, hardware kits, fittings, toe alignment, camber / caster alignment , fuel lines,filters,
3:42
rear end gear, fresh gear oil, all new air ride, 2600 lb bags, 2- 480 compressors , 5 gal tank, pressure switch, bag over axle with mono leaf spring and block ( smooth ) , little Larry's four play manual valve block, ( no electric valves!) brand new American racing grey center torque thrust rims , 8.5 on front 10s on back, brand new cooper cobras all around. New exhaust with glass packs, duals,
Engine : , new ez wiring harness front to back, 89 Chevy 350 center bolt , v8, low miles. Switched to carbureted, new edelbrock 600, intake, hei distr, plugs, wires, valve covers with painted fins, also new trans pan and oil pan to match valve covers, timing cover polished, has headers, new alternator, water pump, belts, hoses, oil, gaskets, alum radiator , 3 core, thermostat controlled electric fan, ,,,
Trans : 89, 700r4 overdrive low miles, new trans pan, filter, gasket, mechanical speedo conversion , trans lines, shifts smooth,
Exterior Body : has it's imperfections , it is a rat rod, but a very clean rat rod, EVERY piece of chrome on the out side is NEW, bumpers, grille, markers, headlights and trims, tail lights and trims, light brackets, hood emblems front and sides, tail gate chains , mirrors, mirror heads, wiper blades, handles ,etc, driver running board rough at the front bottom, great patina green, new front and rear glass, new front and rear rubber , front bumper valence new, hood latches first time, new cab corners, rockers, cowl panels,
Interior : new floor, trans tunnel , kick panels, toe boards, new fuel tank in stock location, working gas gauge with all new black face 5" dolphin mechanical gauges, new Viair black face air gauges, front , rear, tank, new glove box liner, cab windlace, headliner , door panels, door handles, window cranks, all knobs on dash new, dash was worked and painted Clapton metallic green, as we're the doors, fire wall, and inside cab, door jambs, etc. new polished and black 14" steering wheel with gm chevy symbol horn button, floor lined in sound Matt, then carpet put down, 89 silverado bench seat, new mex blankets with green to match inside of truck,
No heater, and stock wiper motor is there but not hooked up , this trucks starts great, runs great, drives great, stops great, all around great patina rat with clean bed, engine compartment an interior. Titled as a 52 Chevy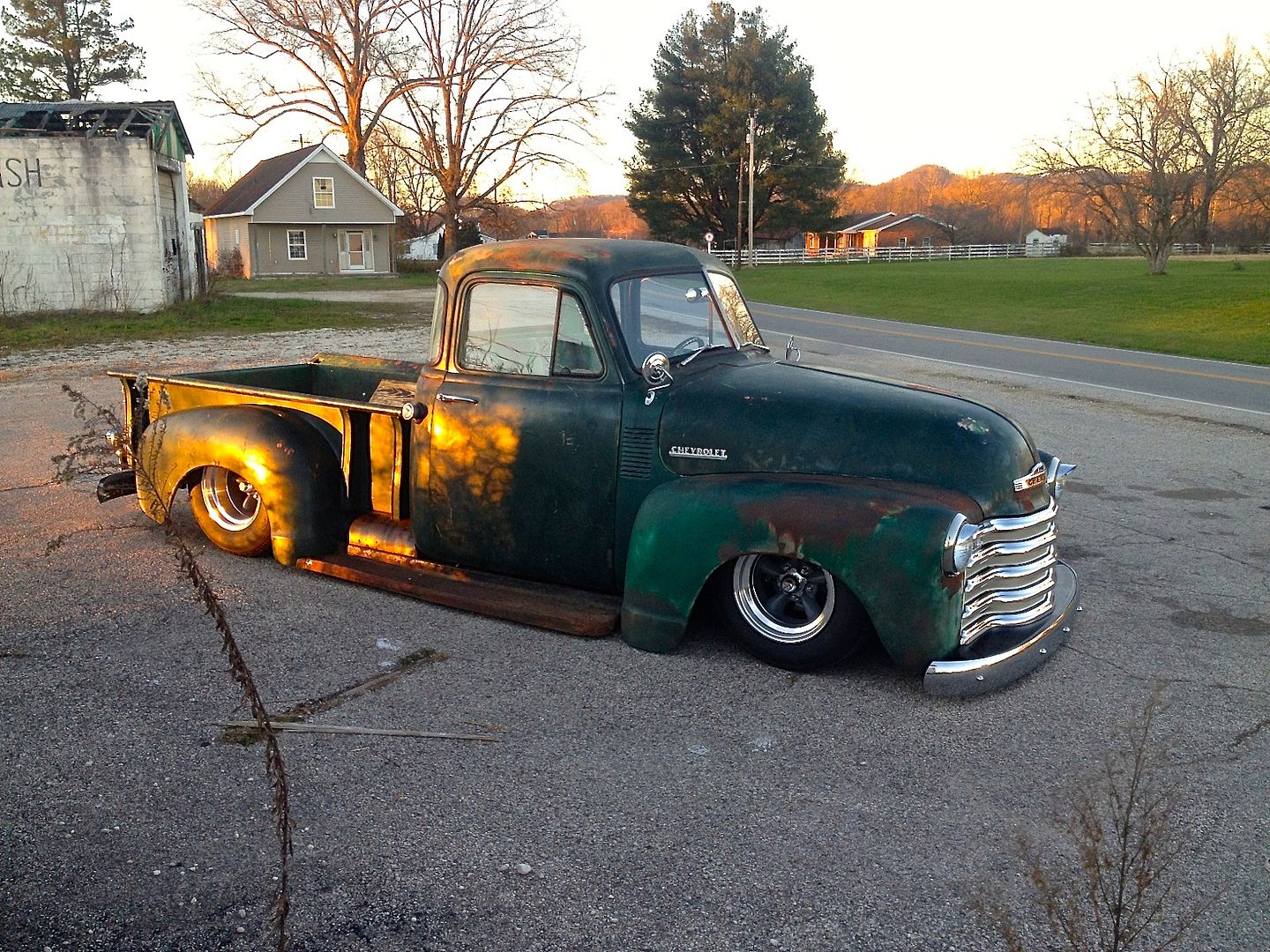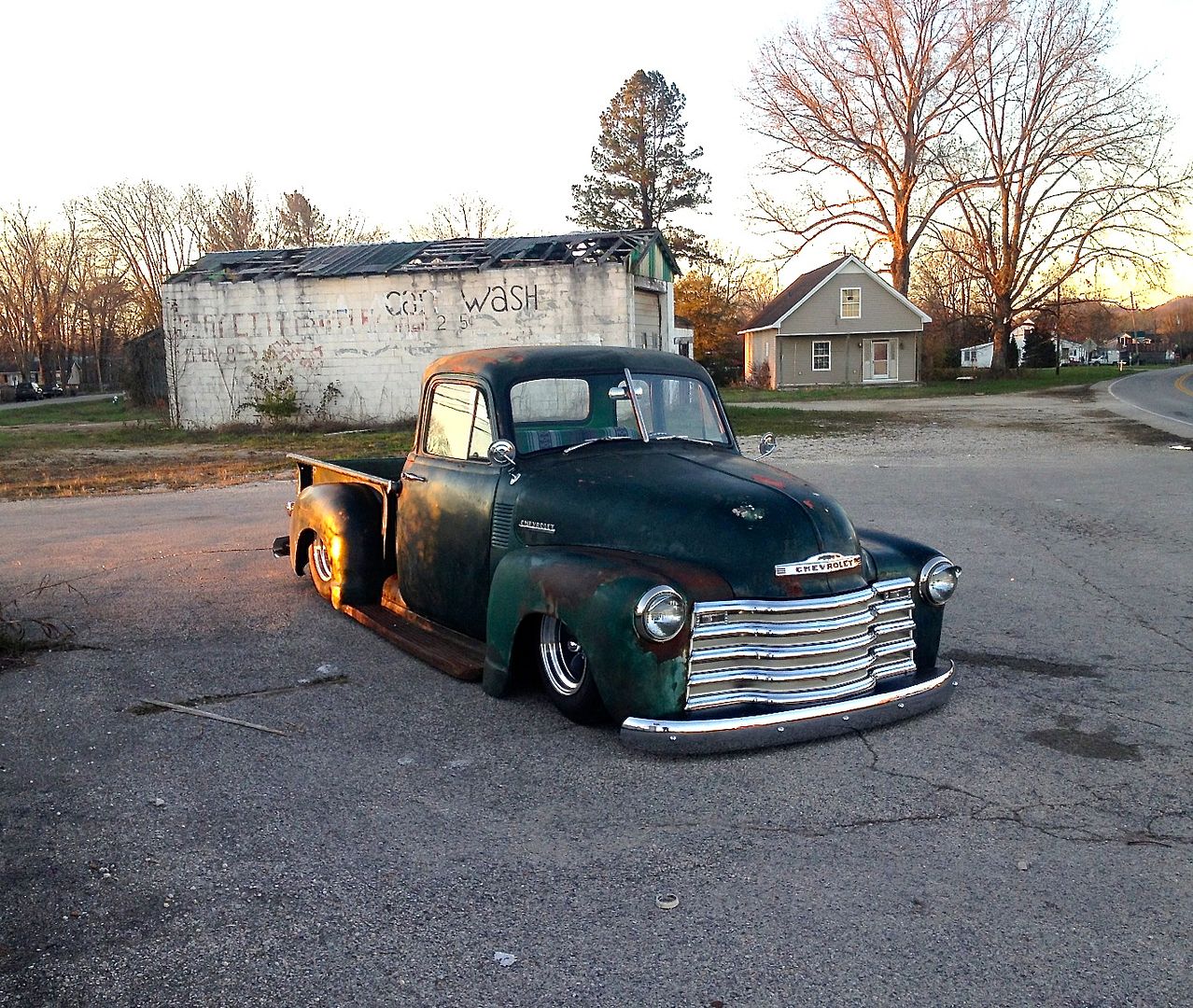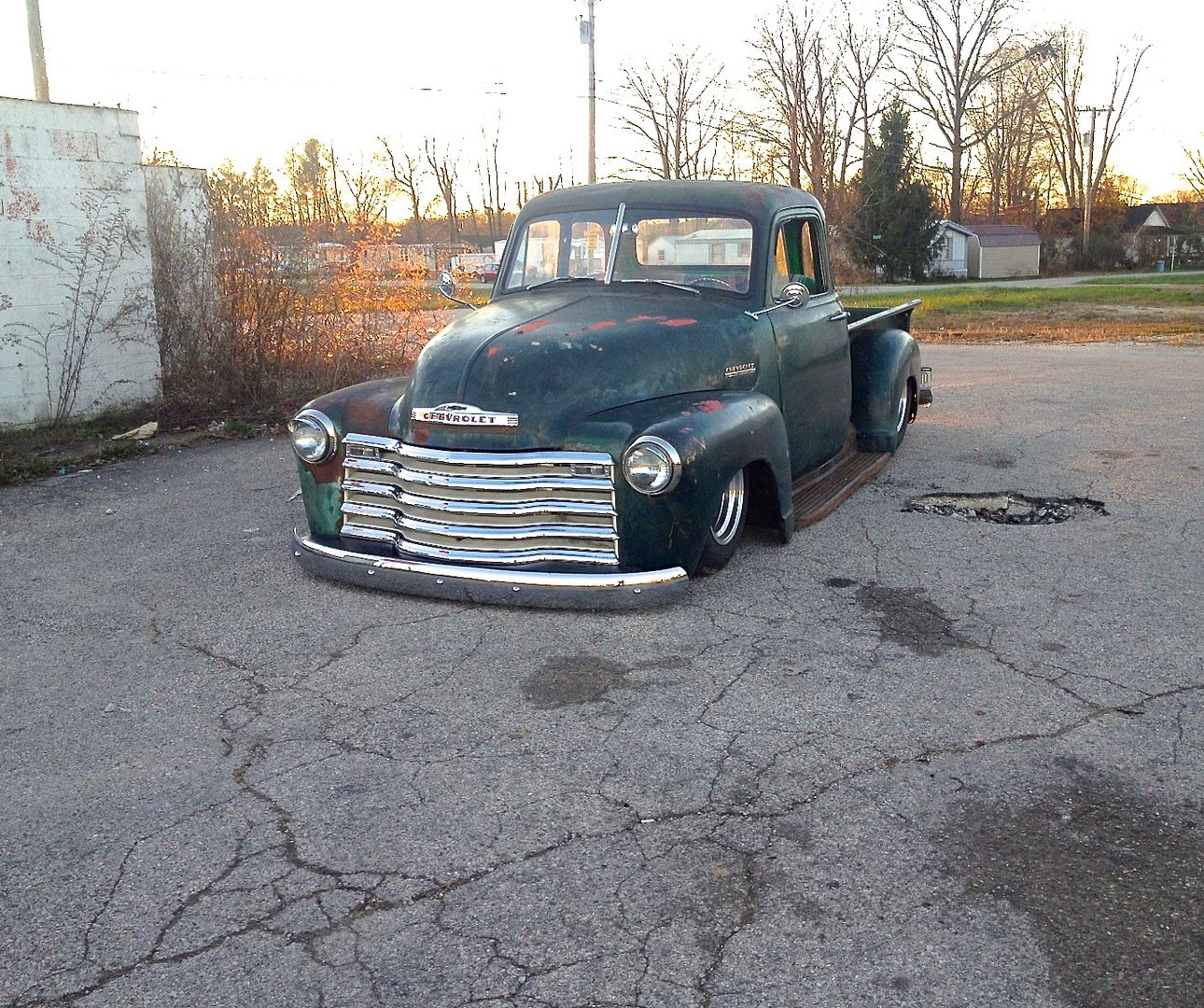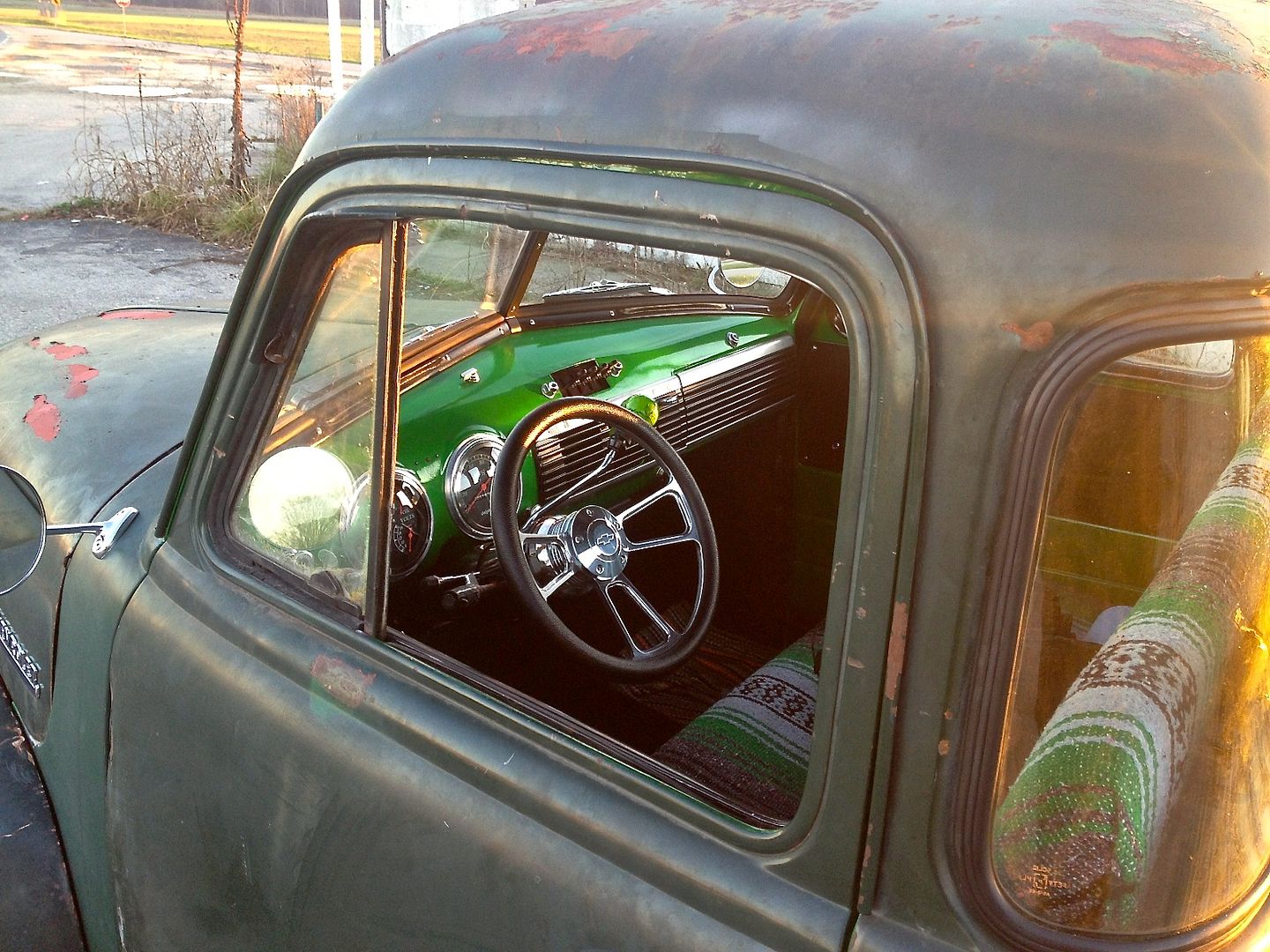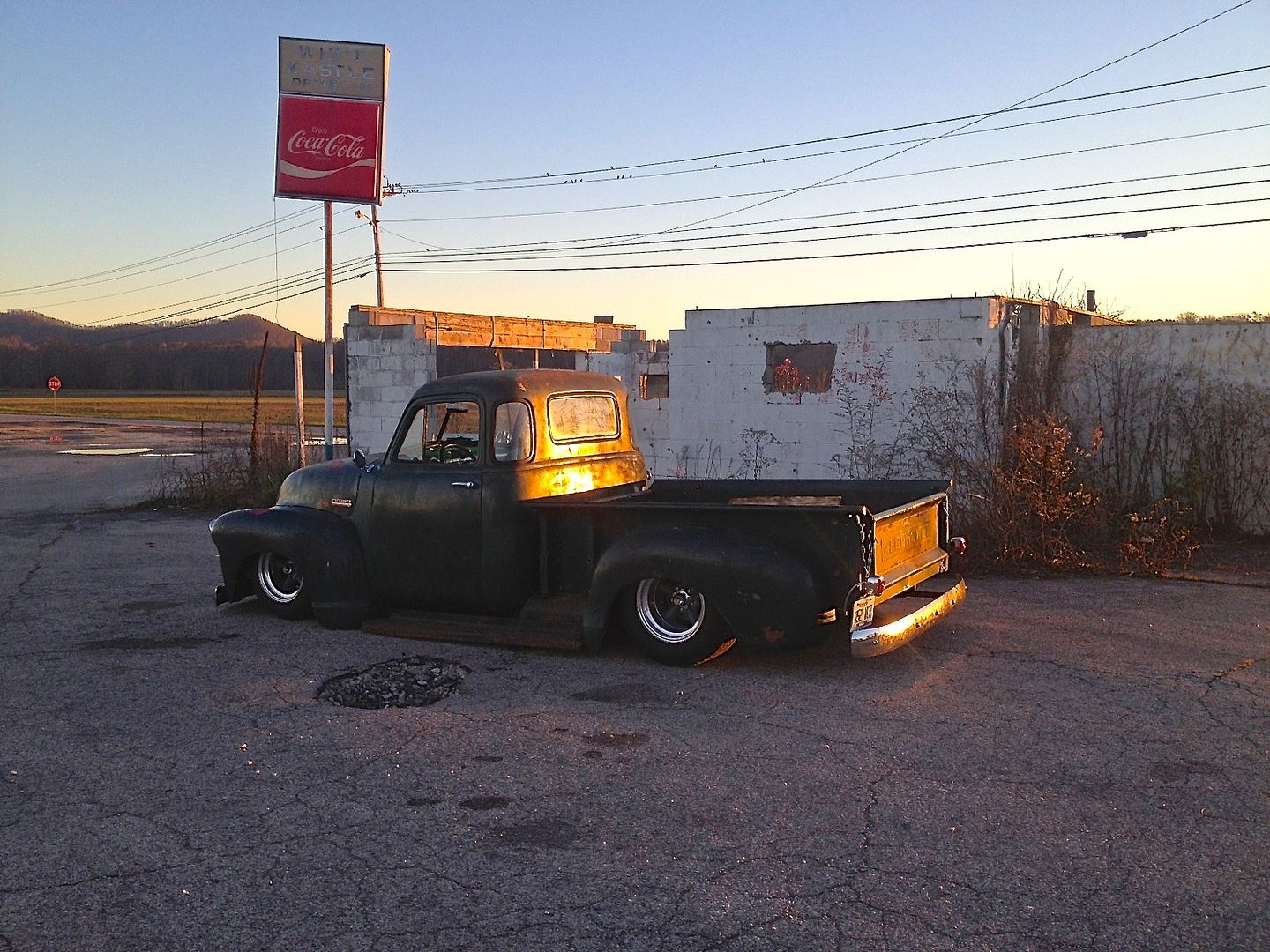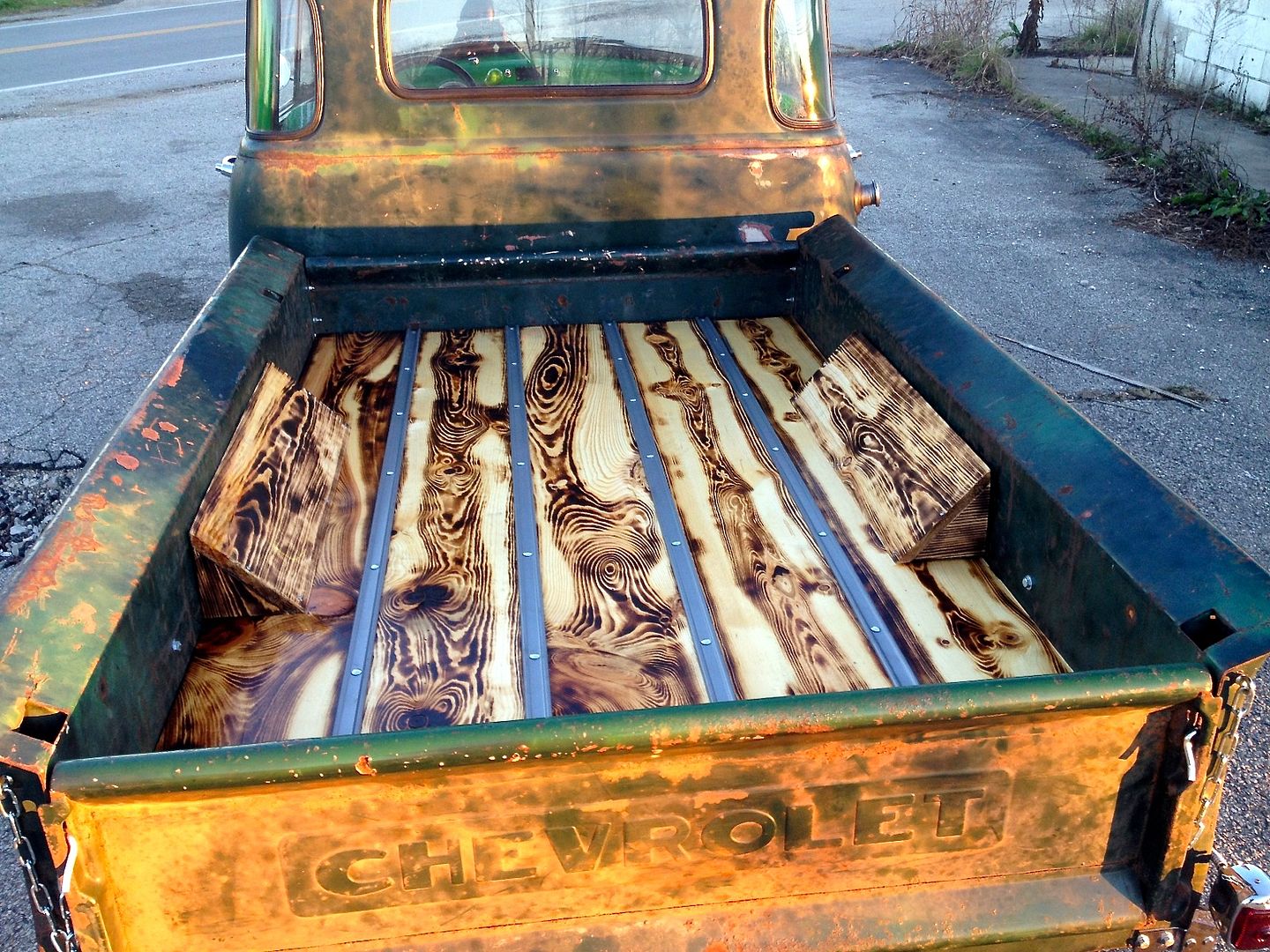 MORE PICTURES WILL BE POSTED LATER THIS WEEK.